Ponds are a valuable asset to any site, but their siting and construction must be carefully considered to ensure their success as a viable habitat, especially if their creation is for a particular species. Over time ponds naturally silt up and dry out, which can create niche habitats for certain species, but in some situations intervention is required to hold this process in check. When management work on a pond is carried out, the timing and method is crucial to minimise the impact on the habitat. If protected species are present this work will have to be carried out under an appropriate licence.
Gowy Pond Construction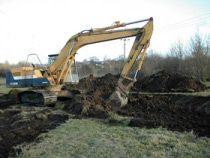 As part of the mitigation package for lost habitat, this pond was created within a GCN habitat under the supervision of ELM staff. Siting of the pond had to be carefully considered so as to reduce the likelihood of GCN affecting any further developments on the adjacent industrial site.
New pond 4 years after construction.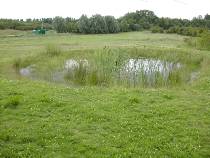 Roots n Boots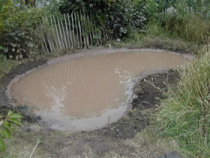 Roots N' Boots, a charitable business encouraging the community to use local allotments, required a pond to be created within one of the allotment sites. Working with different sections of the community, a pond was constructed with heavy duty liner and clay to reduce chances of puncture by vandalism.
&nbsp

18 months after filling and planting