Elm will supply and install benches, site signs, gates, stiles and fencing that are constructed of materials that blend into their surroundings. Where vandalism is an issue or low maintenance and longevity are required then specialist materials can be used. Liaison with those who are actually going to be using the furniture is also essential, to ensure its construction and location meets their needs and expectations.
Site signs
Erection of site signs within a SSSI requires high standards to ensure minimal disturbance and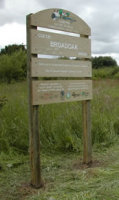 damage to the habitat.
Benches
Installation of benches within SSSI after consulting local community groups in relation to their siting.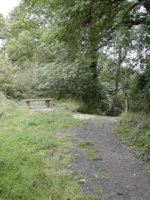 Fencing
Stock Fencing
Following the construction of a new pond within a SSSI designated for GCN, ELM was contracted to install stock fencing to prevent poaching and damage to the pond liner. The pond itself was not constructed by ELM.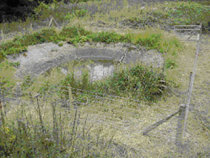 Post and Rail Fencing
Following a specification set by The Woodland Trust, this fence was erected to discourage access to the back of residential properties adjoining the Trust site. By carrying out liaison with the residents whilst on site, we were able to enhance the relationship between The Woodland Trust and their neighbours.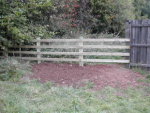 Gates
ELM undertakes all the public footpath works for Wrexham Council, part of which is the installation of a variety of gates. Each location has individual constraints and restrictions, whether that be roots from a veteran tree that must not be damaged, sloping ground or an adjacent water course.